Regional Director of Health Services – Puttalam
The district of Puttalam, which belongs to North Western Province, covers 3013 km2 including several islands with a population of approximately 8 million. The area is administratively divided into 12 Medical Officer of Health (MOH) areas namely Chilaw, Puttalm, Nattandiya, Dankotuwa, Karuwalagaswewa, Arachchikattuwa, Kalpitiya, Anamaduwa, Mundel, Wennappuwa, Mahawewa and Pallama.
The Regional Director of Health Services is responsible for all administrative matters pertaining to health in the area. To accomplish this task, the RDHS is supported by the Regional Epidemiologist, Medical Officer (Maternal & Child Health), Medical Officer (Non Communicable Diseases) and Medical Officer (Planning). Within this district level framework, the Medical Officers of Health in each MOH area is responsible for all public health related activities. Under the guidance of the Medical Officer of Health, the public health officials such as Supervising Public Health Inspector, Public Health Nursing Sisters, Public Health Inspectors and Public Health Midwives collaborate to secure and improve the health of the people in the relevant MOH areas.
The below hospitals are located in the RDHS area to provide health care services for the District.
One General Hospital (GH Chilaw)
Two Base Hospitals (BH Puttalam, BH Marawila)
Four District Hospitals (DH Anamaduwa, DH Dankotuwa, DH Kalpitiya, DH Mundal)
Five Rural Hospitals (Ananwilluduwa, Kottukachchiya, Nawagattegama, Thabbowa, Udappuwa)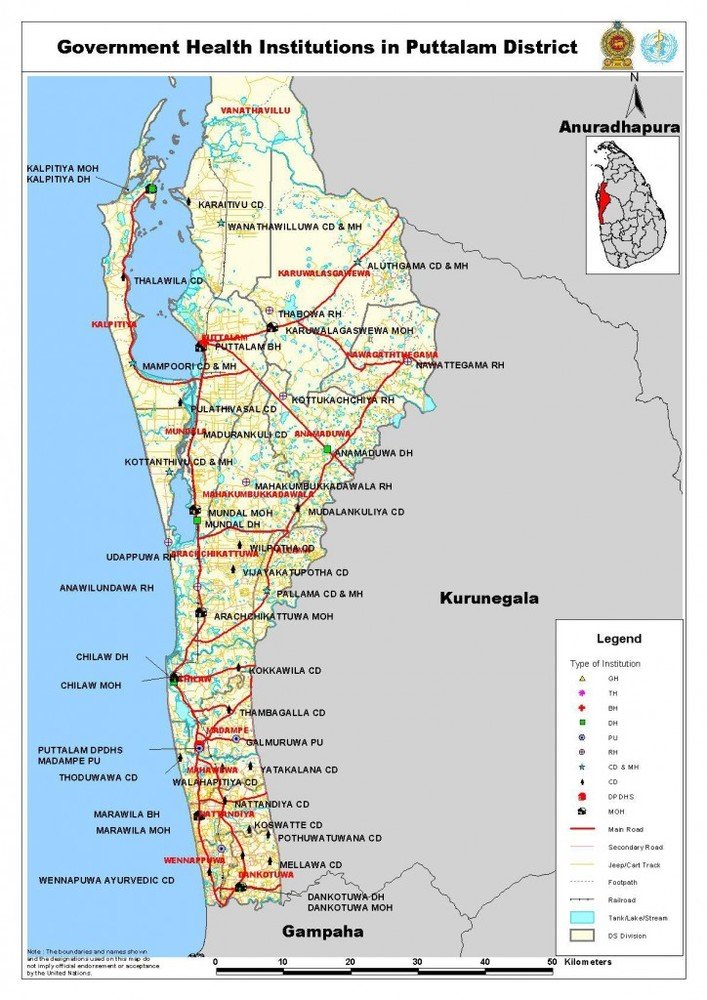 Map of Puttalam district with the Medical Officer of Health (MOH) areas
Leprosy is one of the main public health problem that prevails in the district of Puttalam and MOH areas of Chilaw and Puttalam have been identified as high risk areas. However, from the year 2013, more Leprosy patients have been detected from the Dankotuwa MOH area. In the year 2014, 92 new Leprosy cases were detected which consisted of 56 MB cases, 9 child cases and 72 adult cases, which stressed the need for conducting Leprosy control activities in the district of Puttalam.
Therefore, in order to control and prevent Leprosy, many Leprosy control activities were conducted in the district with the financial and technical assistance of FAIRMED FOUNDATION.
Some of them were:
School screening programmes in high endemic areas to detect more child cases
House to house surveys to detect suspected Leprosy cases by visiting houses as part of an effort to find the hidden Leprosy cases.
Awareness programmes for the field health staff and community leaders
Special screening clinic at Baththalangunduwa in April 2015
Two day training programme on Leprosy for all PHMs in Puttalam and Chilaw MOHs
Improving facilities of the Dermatology clinic at Base hospital Puttalam
Upgrading wound care facilities at Base hospital Puttalam
Establishing and strengthening the District Leprosy Team
Provision of a comprehensive training on Leprosy for 3 Medical officers in Nepal and 9 Public Health Inspectors and 1 Physiotherapist in India
Strengthening the District leprosy unit by improving facilities and providing necessary equipment and stationery needed.