Regional Director of Health Services- Gampaha
Gampaha District has a population of about 2.4 million (2,348,816) and spreads over an area of 1387km2. The district consists of 15 Medical Officer of Health areas, 13 Divisional Secretariat areas, 106 PHI areas and 1177 GN areas.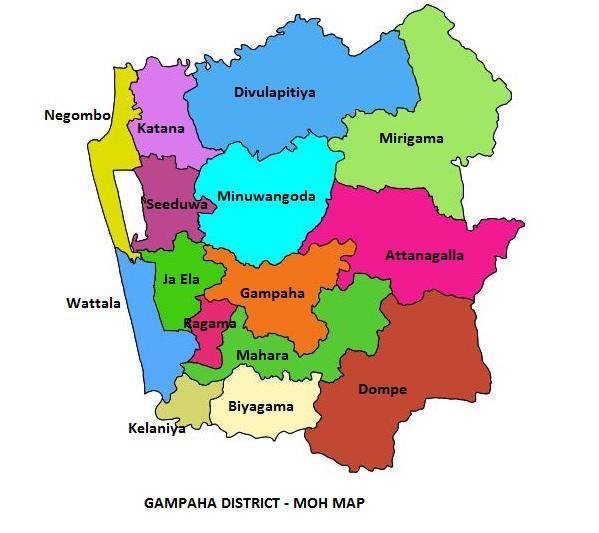 Map of Gampaha district with the Medical Officer of Health (MOH) areas
In the Gampaha District, more than 200 new leprosy cases are detected annually. 
As a highly populated District, Gampaha showed the risk of spreading the disease in a considerable manner. Therefore, FAIRMED FOUNDATION initiated to support the district in order to control leprosy. FAIRMED FOUNDATION has assisted the district in strengthening the District Leprosy Team and has provided overseas training for most of the health staff including Medical Officers, Public Health Inspectors, Physiotherapists etc. The District Leprosy Team consists of Medical Officers, Public Health Inspectors, a Physiotherapist and a Project Assistant.
Many activities were conducted in the district with the assistance provided by FAIRMED  FOUNDATION, including screening of all school children in High Endemic areas (Negombo and Wattala) where the highest number of leprosy cases were reported. Furthermore, the factory workers employed in two factory zones; Biyagama and Katunayake were also screened in order to detect suspected Leprosy cases. Moreover, a House to House Surveys were conducted to detect suspected Leprosy cases by visiting houses in the villages located in Negombo (high endemic area) as part of an effort to find the hidden Leprosy cases.
In addition, many other programs have been conducted, such as training programs for health staff, establishing rehabilitation centers for Leprosy patients with deformities, establishment of Satellite Dermatology Clinics which are aimed at early detection of Leprosy cases, distribution of MCR shoes, Ulcer care kits, Splints and other necessary equipment to relevant patients in order to control leprosy in the district.