Regional Director of Health Services – Colombo
The Colombo District is located along the west coast of Sri Lanka in the Western Province and is the political and economic center in the Island. The Regional Director of Health Services (RDHS) Colombo, which is mandated to oversee the district's health consideration covers an area of 625 km2 which includes an estimate population of 1.8 million.
Administratively, the RDHS is further divided into 15 Medical Officer of Health areas namely: Battaramulla, Boralesgamuwa, Dehiwala, Hanwella, Homagama, Kaduwela, Kahathuduwa, Kolonnawa, Maharagama, Moratuwa, Nugegoda, Padukka, Piliyandala, Pitakotte, and Ratmalana. 
The Regional Director of Health Services is responsible for all administrative matters pertaining to health in the area. To accomplish this task, the RDHS is supported by the Regional Epidemiologist, Medical Officer (Maternal & Child Health), Medical Officer (Non Communicable Diseases) and Medical Officer (Planning). Within this district level framework, the Medical Officers of Health in each MOH area is responsible for all public health related activities. Under the guidance of the Medical Officer of Health, the public health officials such as Supervising Public Health Inspector, Public Health Nursing Sisters, Public Health Inspectors and Public Health Midwives collaborate to secure and improve the health of the people in the relevant MOH areas.
Collectively, the public health staff provides immeasurable services in the District to prevent and control communicable and non-communicable diseases.
As Colombo is the most populated district in the island, there are many healthcare institutions.
Hospitals within the Colombo RDHS area providing health care services:
Two Teaching Hospitals (Colombo South Teaching Hospital and Sri Jayawardanapura General Hospital)
Two Base Hospitals (BH Awissawella and BH Homagama
Nine District Hospitals (DH Wethrara, DH Thalangama, DH Nawagamuwa, DH Kosgama, DH Moratuwa, DH Maligawatte, DH Athurugiriya, DH Piliyandala and DH Padukka)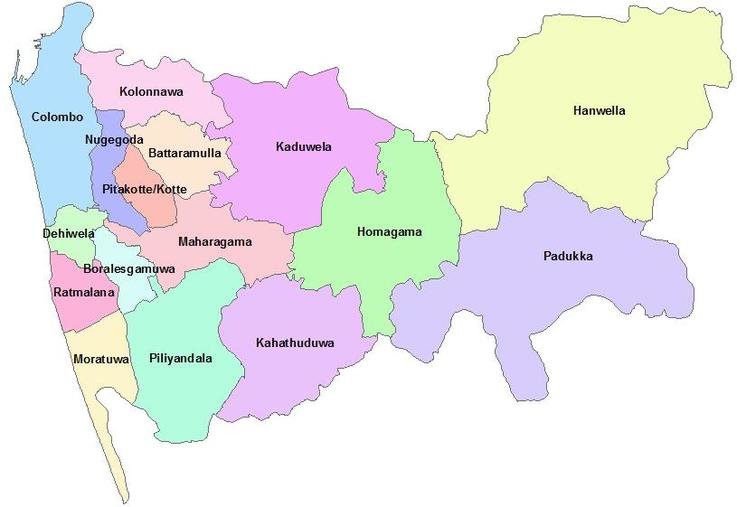 Map of Colombo district with the Medical Officer of Health (MOH) areas
In the years 2014 to 2016, many activities were conducted in the Colombo RDHS area for prevention and control of Leprosy with the support of FAIRMED FOUNDATION.
Some of them were -
Upgrading the Satellite Clinic & Rehabilitation Center at DH Moratuwa to provide better services for the Leprosy patients
Training programmes for Public Health Inspectors on how to do case investigations following notifications
Training of Ayurvedic practitioners on Leprosy 
Conducting school screening programmes in high endemic areas to detect more child cases
Conducting awareness programmes for the Field health staff
District Leprosy Teams were formed & strengthened in the District
Comprehensive training on Leprosy to 3 Medical Officers in Nepal and 9 Public Health Inspectors and 1 Physiotherapist in India 
Employing a District Project Assistant to support the activities carried out in the District
Strengthening of the District Epidemiology Unit by providing necessary equipment and stationery needed.