Regional Director of Health Services - Ratnapura
Ratnapura District has a population of about 1 million and spreads over an area of 3,275.4 Km2. The district consists of 95 PHI areas and 18 Medical Officer of Health areas namely Ayagama, Kiriella, Kalawana, Balangoda, Kolonna, Eheliyagoda, Kuruwita, Elapatha, Nivithigala, Embilipitiya, Opanayake, Godakawela, Pelmadulla, Imbulpe, Rathnapura (PS), Ratnapura (MC), Kahawaththa and Weligepola.
In Ratnapura District, 106 new Leprosy cases have been detected in the year 2016. 
The Regional Director of Health Services is responsible for all administrative matters pertaining to health in the area. To accomplish this task, the RDHS is supported by the Regional Epidemiologist, Medical Officer (Maternal & Child Health), Medical Officer (Non Communicable Diseases) and Medical Officer (Planning). Within this district level framework, the Medical Officers of Health in each MOH area is responsible for all public health related activities. Under the guidance of the Medical Officer of Health, the public health officials such as Supervising Public Health Inspector, Public Health Nursing Sisters, Public Health Inspectors and Public Health Midwives collaborate to secure and improve the health of the people in the relevant MOH areas.
The below hospitals are located in the Ratnapura RDHS area to provide health care services for the District.
One General Hospital (GH Ratnapura)
Four Base Hospitals (BH Balangoda, BH Kahawatta, BH Embilipitiy, BH Kalawana)
Twenty nine Divisional Hospitals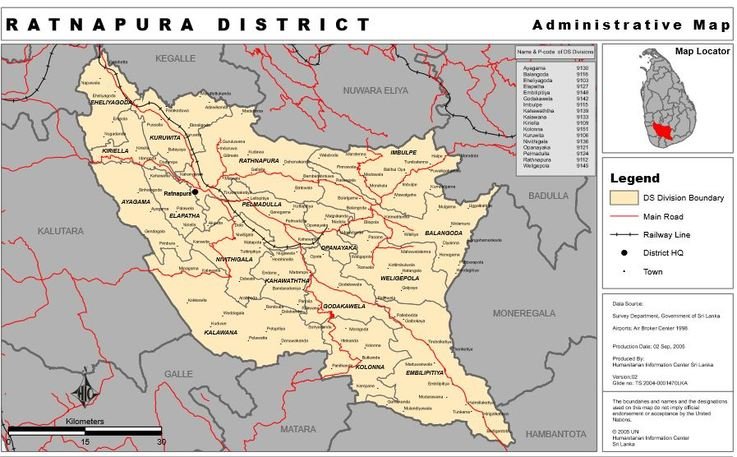 Map of Ratnapura district